2017 Women of Wool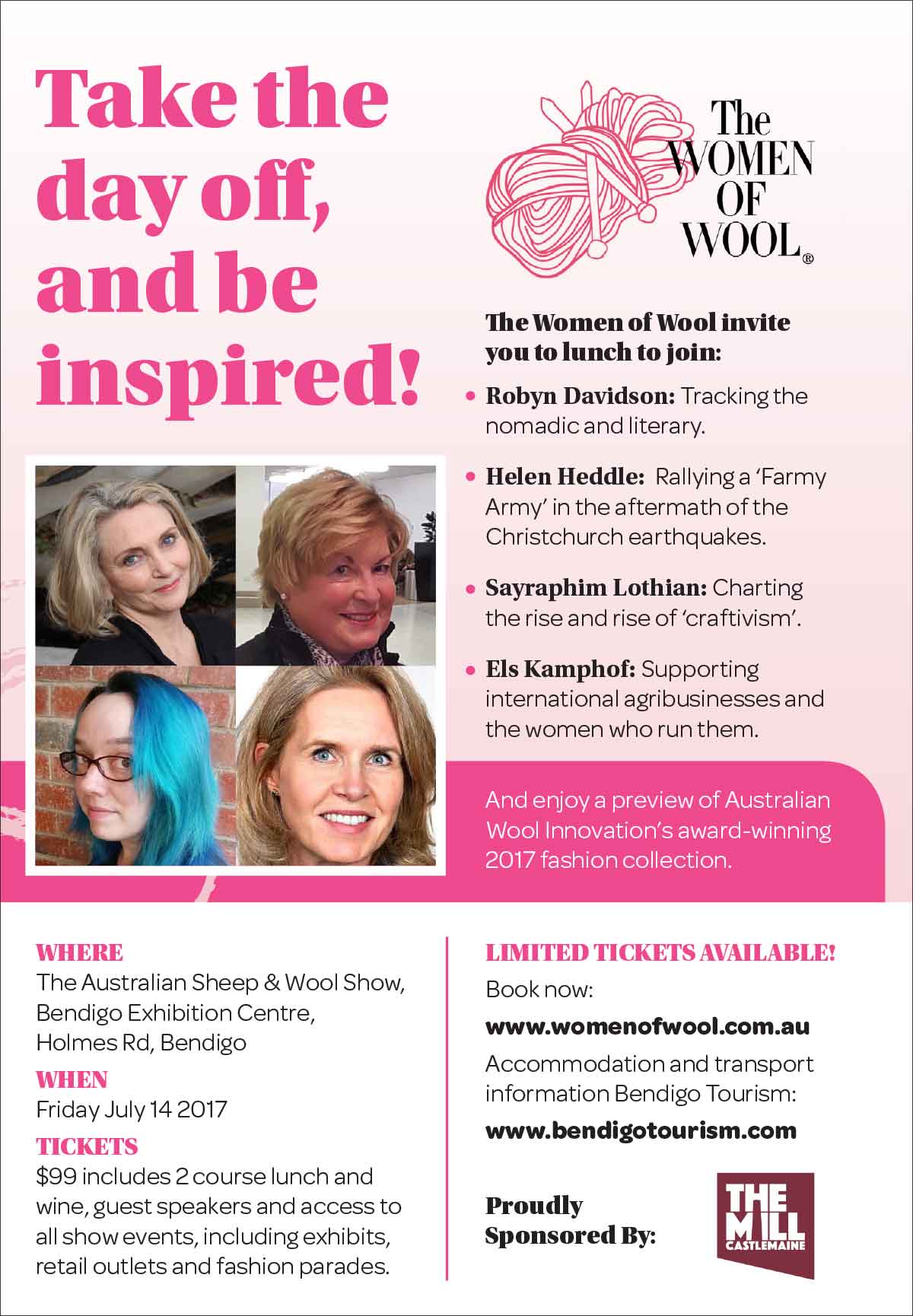 Women of Wool MC - Robyn Davidson
It was back in the 1970s that the world sat up and took notice of a young, beautiful blonde woman who had done something extraordinary that challenged everybody's idea of a 'comfort zone'.
Robyn Davidson - the woman alone in a wildnerness - had walked 3000 kilometres across the Australian desert with four camels and a dog at the age of 27.
There was no GPS, satellite phone or electronic tracking devices when she shrugged off the Sydney intellectual sub-culture of the time, dropped out of the Sydney Conservatorium of Music and arrived by train in Alice Springs.
She had the dog, Diggity, $6, a suitcase and an unwavering belief that she could train wild camels and walk across the country's harsh, dead heart to the Indian Ocean.
It was a 'no brainer' for 'National Geographic' to feature her on its cover as she emerged from the desert haze. It wasn't Robyn's intention to find such fame, but to set her own record straight, she wrote 'Tracks', which became the international best seller in 20 languages - never out of print - and later made into a feature film.
It set Robyn on a remarkable trajectory as a writer, explorer, filmmaker and commentator on the culture of nomadic populations worldwide.
No stranger to the world's great metropolises - such as London and New York - and after her own 'nomadic' lifestyle of constantly moving on, she now lives in Castlemaine, Victoria, where she continues to write and escape into her garden.
But, Robyn was no one trick pony, later going on the harsh migration with North West India's pastoral nomads and, after completing a research fellowship at Cambridge University, she lived in the remotest areas of Tibet to study high altitude herding. Books, documentaries, films and more adventure stardom through 'National Geographic' followed in her footsteps.
Such experiences have led her to share profound thoughts such as: "If we are to have a future, where did we cause less damage to ourselves, to our environment and to our animal kin? It's when we settled that we became strangers in a strange land and wandering took on the quality of banishment. I shall probably be accused of romaticism."
Along the journeys, Robyn formed strong and abiding relationships with aboriginal people both in Australia and abroad.
But, Robyn was not a city girl who 'went bush'. She was born on a cattle station - Stanley Park - at Miles, Queensland. At the age of 12, drought and financial woes saw the family leave the land and move to Brisbane.
Now in her 60s, does Robyn think the journey that made her famous could be done again?
That depends on your view of 'getting lost' amid the tangle of today's red tape and electronic devices.
Robyn will host the Women of Wool lunch, Australian Sheep & Wool Show, Bendigo, on 14 July.
Helen Heddell
Leading sheep breeder, Helen Heddell has spent her life surrounded by the sort of scenery that is the stuff of awe-inspiring tourist brochures.
The soaring high country, that sweeps up from the coastal plains and into the alpine ridges, sparkling lakes and retreat locations that brings visitors in by the planeload. They go back home with a fly fishing, wildnerness trekking, hunting, or kick back in a hot springs experience under their belt.
But, when you run 12,000 Merinos, a sizeable Angus-Hereford cross cattle stud and other farming operations between you and your husband and two casual staff, there isn't much time to just smell the surrounding roses.
Beautiful it may be in New Zealand's south island Canterbury region, but it belies the realities of the wind, snow drifts, unyielding steep terrain and the unexpected.
But, for generations now, Helen's farming family have learned to live with and get on with the unexpected. But, when a deadly earthquake has just struck your region's largest city, Christchurch, it shocks everybody's world.
Even on New Zealand's earthquake-prone scheme of things - and its population's appreciation that such events are a fact of life - the first major jolt that hit the region in September 2010 was recorded at a huge 7.1 magnitude.
While damage was widespread, there were remarkably few deaths and injuries. The aftershocks kept coming by the dozen over the subsequent months and Helen, like the rest of the population, was highly aware of each one.
But, just six months later, at lunchtime on 22 February an 'aftershock' at a magnitude of 6.3 left 185 dead, thousands injured and homeless and a damages bill in the billions. That 'aftershock' was on a shallow fault line close to the city and brought with it maximum damage in a country geared for such events.
In the immediate shock and aftermath, when emergency services are scrambling and the government is into disaster response overdrive, Helen's phone rang and the voice on the other end casually asked: "Are you busy?"
There was a small 'army' gathering on the Canterbury Agricultural Park, where the region's diverse agricultural industries - from prime livestock to premium viticulture and horticulture - gather to display their wares.
No stranger to organising agricultural events and advocating for the industry, Helen was being asked if she could mobilise and coordinate a massive catering effort around the farmers who were pouring in with their staff and machinery to help with the recovery effort.
As they brought their 'can do' attitude to town, what confronted them was unimagineable. The levels of liquefaction - where underlying layers of silt and sand turn to sludge and erupt through every crack like a liquid volcano - was going to need every tractor, digger, truck and piece of heavy machinery available. This endless ooze undermines and makes buildings, roads and infra-structure collapse; it covers properties and streets and; as sewage lines implode, the mix becomes even more deadly.
But, an uncoordinated effort can be totally counterproductive. It needed decision makers, coordinators and 'generals'.
They dubbed themselves the 'Farmy Army' was rapidly born, tasks allocated and anyone who wanted to get involved could come to the central point and be deployed in the best way possible. Getting on top of the huge levels of liquefaction was crucial. The city couldn't move otherwise.
"We had no idea what we would be coping with," Helen says.
There was already a mobilisation of students and it turned out that many of the top people running that were also farmers. Put all the heads together and the students had already devised some great IT systems that could be shared.
"Farmers just have the ability to take the blinkers off and get on with what's needed. They aren't people that easily take 'no' for an answer," Helen says.
But, working in a voluntary capacity, camping where they could - all at their own cost - it was down to Helen to meet the challenge that an army marches on its stomach. She needed to rally the resources to pump out 1200 meals a day.
Strong connections with the meat industry were worth their eight in gold to supply the huge quantities needed.
This continued every day for a relentless month. But, all around them they were seeing citizens struggling to cope, unable to access the recovery networks and often going hungry. Helen's army set up some discreet drop off points where they could access food parcels.
The call to volunteers was simple, not just for this disaster, but the subsequent Kaikoura earthquake and the wildfires that surrounded Christchurch in recent times. "Every disaster is different," Helen says. "The 'can do' attitude Australia and New Zealand have in common, is also about contributing what you are good at. If you are good at baking scones, then bake scones. Hammering nails, operating machinery……just do it, it isn't all about dollars".
But, at the end of the day, this civilian effort relies on the ability to create successful order out of utter chaos.
Helen will outline to the Women of Wool lunch audience how the 'Farmy Army' achieved this and remains ready to be mobilised for any new disasters.
Sayraphim Lothian
As a little girl Sayraphim Lothian joined big, noisy, colourful 'Reclaim the Night' marches on Melbourne streets with her mother, learning to wave heavy flags and keep pace with the throng of chanting activists.
In quieter moments, her grandmother taught her the wonders of wool in knitting and the many uses of sewing well.
Both skills would come in handy.
How the little marcher and keen sewer became a public space artist known for guerilla acts of kindness and part of 'craftivism's' creative advanced guard is an interesting tale.
Sarayphim will join the Women of Wool at the Australian Sheep & Wool Show to tell her tale and chart the explosion of craft-based protest around the world.
The term craftivism was coined a decade ago by writer Betsy Greer. At the time it gave a name to the emerging movement of knitters who held 'knit-ins' to protest myriad social concerns, such as fracking or logging. It grouped together creative protesters handy with a needle, thread, paint and paper, and unified crafters as political and proud of it.
By 2017, the loose knit collection has turned into a force and is making itself heard at protests and public spaces around the world.
According to Greer: "Craftivism is a way of looking at life where voicing opinions through creativity makes your voice stronger, your compassion deeper and your quest for justice more infinite."
For Sayraphim, the theory and practice are a passion that has led to a connection with people that is central to her art.
"I love craftivism because it can incorporate everything from the very shouty to gentle, yet they are powerful messages that open conversations," she says.
"Often craft can disarm people, which leads to those good conversations of issues we really need to talk about."
Her main body of work, 'Guerrilla Kindness', leaves tiny handcrafted artworks out on the street for people to find and take home, 'injecting small, unexpected and magical moments in passers-by's lives'.
"They aim to remind people of the niceness of life, and reward those who take the time to stop and look around them once in a while. These works can be found in streets all around the world," Sayraphim says.
She sees her work as creating bridges between participants. "They are about the sharing of experiences - rediscovering joy in oneself and realising it abounds in other people".
It's these and other small pieces of art that have made her name synonymous with craftivism and has lead to her work finding homes in New York's MoMA and New Zealand's Te Papa Museum, as well as homes around Melbourne.
In 2014, the artist took 124 fabric kākāpō birds to Christchurch, New Zealand, not only to highlight the endangered species, but also to lighten the lives of residents recovering from the devastating earthquakes.
"I put out 12 birds a day, all around the city, and the people who found them got back in touch via social media and shared some really full-on stories about how difficult life had been after the quakes".
From the rise of 'random acts of gentle anarchy' to the expressive power of craft as millions of people protest women's rights, bans on immigration, environmental decline, and the stifling of science, Sayraphim is fascinated by the evolution of craft.
"Craft is a great way of finding your voice and to be listened to. In times like these people turn to whatever they have to hand - and this time round that means knitting needles, embroidery, crocheting and many other ways.
"People want to get out and do something - that urge pulls you out of your chair."
Sayraphim Lothian will speak at the Women of Wool luncheon, hosted at the 140th Australian Sheep and Wool Show on Friday July 14 in Bendigo
Els Kamphof
Els joined Rabobank Australia and New Zealand Group as Group Executive Wholesale in January 2016. Els is responsible for the Wholesale Banking Division of Rabobank Australia and New Zealand and a member of the RANZG Executive Team. She holds a master's degree in Econometrics from the State University of Groningen in the Netherlands.
Els joined Rabobank in 2006 and headed up Corporate Lending, Wholesale Clients Netherlands, for eight years, managing corporate relationships and wholesale lending across all industries and products nationally. As Global Head of Financial Institutions in 2014 and 2015, she was responsible for relationship management across major financial institutions worldwide. Before her time at Rabobank, she was a senior member of ABN AMRO Bank.
The Women of Wool event is proudly sponsored by Rural Bank