2016 Women of Wool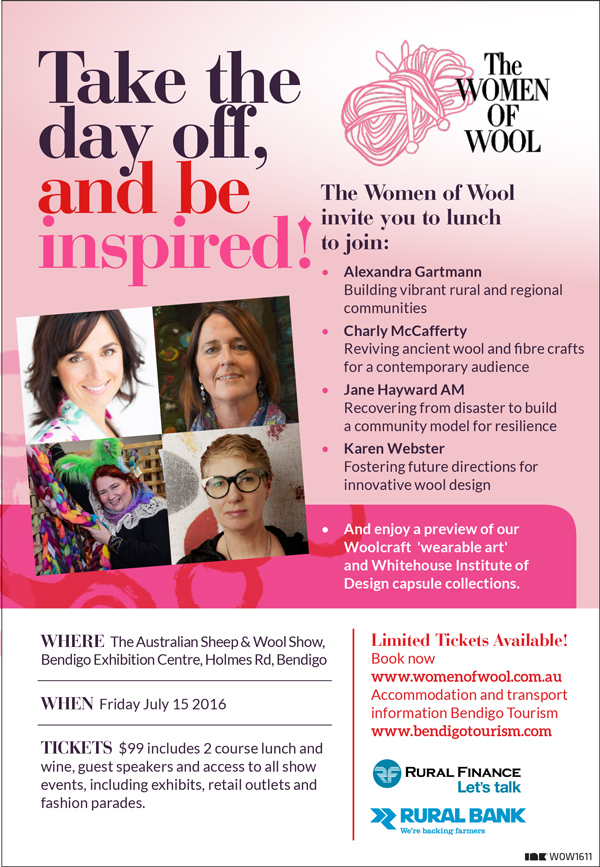 Women of Wool luncheon MC, Alexandra Gartmann
Alexandra joined Rural Bank as Chief Executive Officer in October 2015, having been a member of the Board since November 2014.
Before joining Rural Bank, Alexandra was CEO of the Foundation for Rural and Regional Renewal (FRRR), a charitable foundation based on a partnership between philanthropy, community, government and business supporting the economic prosperity of rural, regional and remote communities across Australia.
Prior to this, Ms Gartmann held the position of CEO of the Birchip Cropping Group for 10 years — a not-for-profit agricultural research organisation based in the Mallee Wimmera region. Alexandra was previously a member of the Board of the Rural Finance Corporation of Victoria.
She is Chair of the CSIRO Agriculture Flagship Advisory Council, a member of the Prime Minister's Community Business Partnership.
Karen Webster
Karen is regarded as one of the country's leading fashion advocates and leaders.
Now head of the Whitehouse Institute of Design, she was previously Deputy Head of Fashion and Textiles at Melbourne's RMIT.
Karen took on the role of Director of the Melbourne Fashion Festival for five years and under her stewardship it grew to include more than 300 events and enjoyed record attendance levels.
Karen has held numerous board positions, including the Australian Design Alliance and the Federal Government's Positive Body Image Advisory Panel.
She was the first female board director on the Council of Textile and Fashion Industries of Australia and was appointed Chair of the Australian Fashion Council.
Karen will showcase some of the wonderful wool designs emerging from her Whitehouse students and discuss what the future holds for the industry.
Jane Hayward AM
Even with almost 30 years of teaching in Victorian primary schools - with a focus on small schools - behind her, Jane Hayward could not have imagined how her life would change on 7 February, 2009.
When the cyclonic firestorm that was Australia's worst natural disaster tore through the peaceful farming valley of Strathewen - a mere 45 kilometres north west of Melbourne's CBD - Principal Jane's school lay in ruins, there were 30 dead out of a population of 200 and her students had lost parents, grandparents, siblings and a classmate.
The local farms, most of the homes, the community hall, fire station and school had been wiped from the map.
But, within a remarkable four days Jane had erected a temporary school that returned her community to a crucial routine and became a gathering place, while she set about rebuilding the school on its original site.
Since then, and without a guidebook, Jane has led her little school and its community on an inspirational journey of resilience, ongoing recovery and important outcomes that will continue to inform how we deal with and recover from all natural disasters.
Jane's journey transcends the little country school that refused to die and will inform not only ways to rebuild devastated communities, but how to promote the wellbeing of our children.
And yes, there was quite a bit of knitting and woolcrafting involved.
Jane was presented with the National Excellence in Teaching Award in 2010 and was also recognised with a Member of the Order of Australia (AM) in 2012, for services to the Strathewen community.
Charly McCafferty
Taught the ancient techniques for using fibre for survival by the Indigenous American Navajo side of her family was never going to be enough for Charly McCafferty.
She just had to defy her mother and grandmother by blending other fibres in to create innovative new approaches.
Working as a medical anthropologist with indigenous women in Latin America saw Charly further exploring the animals that gave their fibre for the craft, spinning and weaving that formed the core of an income for these poor communities.
Love brought Charly to Australia, where she overcame some extreme obstacles to set up her own organic fibre farm in Victoria's Yarra Valley.
Revolving around angora rabbits and rare breeds of sheep and goats, it was here that Charly created her fabulous 'Angorino' - a blend of angora and Australian Merino.
This led to other innovative Merino and other blends that are now in high demand.
Charly is a passionate advocate for keeping ancient crafts alive, sources some of her rare breed sheep fibres from all over the world and is a fount of knowledge on what is happening in the contemporary fibre and craft market.
The Women of Wool event is proudly sponsored by Rural Bank