Women of Wool 2015 Profiles
The Nan Bray Way
This American-born high achiever was settling into her new, adopted country and had landed a good job with the CSIRO. While Nan got on with things more coastal, she was convinced that she wanted instead to be a farmer. It had to be sheep and it had to be superfine wool.
Undaunted, Nan's early foray into things ovine had many a traditionalist in the high midlands of Tasmania shaking their heads and having a chuckle at the American 'blow in'. But today, her methods and communication with the rusted- on fans of her fabulous fine yarns are becoming known as 'The Nan Bray Way'.
Today, she talks about the sheep at White Gum Wool as being a tale 'about mammas and babies, diversity, abundance and ethics - for the land, the animals and the people.' When you combine that with her 'yarns from the farm', a blog that includes subjects such as 'the Zen of shepherding', then some of that head scratching isn't surprising. What changed it was Alice. This Merino ewe had been down for 24 hours with a difficult lambing. Nan decided that Alice had indicated to her that she wanted to live, 'so, we worked on that together.'
Nan built Alice a sling in a free-standing frame that allowed her to stand and graze. Alice could walk along in the frame with the fascinated Nan in close tow taking detailed notice of what the ewe chose to eat. She would pick at plants like chicory and plantain, then move to lucerne and clover. Ordinary grass wasn't on her self-chosen herbal diet.
No stranger to the intricacies of eco-systems, Nan largely kept the Alice story to herself, while continuing to research it. Plant chemistry prevents animals from eating the plants to death and the animals are capable of balancing their diets and self-medicating using a diverse range of plants. For Nan that was a given, but her next project was to determine whether that plant diversity was available on her land and was an animals' ability to select inherent or taught. This, says Nan, is 'nutritional wisdom'. "The knowledge is passed on from mothers to babies over one to two years. Keeping mothers and babies together is crucial to maintaining group knowledge of nutrition in the landscape."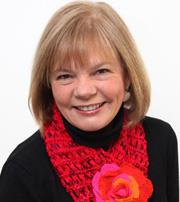 A Currency of Hope
Many a keen knitter or crocheter will tell you that they cut their craft teeth by producing squares out of spare balls of wool. It taught a lot about tension, stitches and patterns, with many a resultant, cosy rug or blanket for the bed.
When Sandy McDonald saw a new use for this age-old idea, little could she imagine that it would become a major philanthropic movement involving 55 countries and the welfare of 2.4 million orphaned and vulnerable children.
Sandy McDonald and her family were in Melbourne when her aunt, Ronda Lowrie, came to visit her in Melbourne from South Africa in 2008. Ronda had been on a personal mission to hand out blankets she kept in her car to the cold and orphaned children, many living on the streets.
"I was shocked. But, when I did the research, the scale of it was beyond comprehension," Sandy says. "There were an awful lot of cold kids." With her husband, Roger, and their marketing and design business, the idea developed to begin an online movement. It would call on knitters and crocheters worldwide to knit 20 centimetre squares and send them to Ronda in South Africa. Ronda would organise volunteers to make up the blankets and distribute them to the children. Ronda and her daughter, Erin, organized teams through church parishes, community workers and crèches to sew the blankets.
Back in Australia, Sandy developed a grass-roots global movement online, particularly through schools. The Knit A Square (KAS) community was born and its online forum, Square Circle, took on a life of its own. The connectedness of the international craft community went into overdrive. An American yarn company put the request out to a million people on its data base and Sandy had a juggernaut to manage. "The momentum outside of a simple idea that started nine years ago has been absolutely jaw dropping," Sandy says.
A Powerful Rural Voice
Every now and then, a pied piper comes along. Someone who is dedicated to not only fostering the debate about the future of farming, but empowering those who contribute to what we produce to engage with the consumers at the end of the supply chain. Being able to also advocate on their behalf at all levels of government, while creating programmes that link us to learning about and sharing knowledge through agriculture in neighbouring countries, is no mean feat.
For many rural and regional women, the channel to this educational market for just such a strong voice has emerged in the form of Catherine Marriott, who will spearhead the Women of Wool lunch at the Australian Sheep & Wool Show on 17 July.
Catherine is the product of a long line of farming families and a qualified ruminant nurtritionist. While that took her on an initial trajectory as a technical consultant, her dedication to encouraging and inspiring rural and regional women to become strong advocates for their communities and what they produce, has increasingly put her in the spotlight.
Growing up on a sheep property, Yarallah, near Benalla, Catherine was rapidly introduced to the hard work side of farming. Her father died when she was young, leaving the farm to her mother to run with the help of Catherine's young brother and two sisters.
With her mother's strong belief in encouraging her children to be independent, the little girl who rode her horse to a school that housed on 11 pupils and was used to mucking in on all the farm chores, went on to become a technical consultant to the Australian and Asian beef industries. Dividing her time between northern Australia and Asia, Catherine soon found herself travelling more extensively globally and lobbying governments at all levels.
This led to her becoming a vocal advocate for Australian farming as well as an expert commentator on the future of food and water management and the role of agriculture in Australia's economy. For most, that would be enough career to occupy a lifetime and her work was recognised when she won the Western Australian Rural Industries Research and development Corporations Rural Women of The Year Award. Rather than leave the honour sitting on the mantelpiece, Catherine founded the Influential Women network in 2012. Its basis was to create a strong cohort of rural and regional women and to empower them to better advocate for their communities and what they produce.
Jenny Is Back
They were audacious, bright, very Australian and not only spelt an end to a bland and conservative approach, but they changed the way the fashion world portrayed what emerged from down under.
When the girl from Bondi fused fashion and art using the finest Australian wool and incorporated our most recognisable emblems, the name Jenny Kee was destined to go down in history.
Jenny has created a new collection with The Woolmark Company and will present this Australian Merino wool capsule collection at the Women of Wool lunch at the Australian Sheep and Wool Show on Friday, 17 July.
While it is reminiscent of her Australiana knitwear from the 1980s, Jenny has taken a new journey into how today's garments are manufactured. The latest collection, 'A New Beginning', differs from Jenny's original jumpers as digital knitting allows her to include an abundance of colour through a streamlined manufacturing process. Rather than a koala knit, Jenny has created a 'Blinky Bill', version.
Jenny's career started when she sold retro clothing in 1960s London. Having studied fashion design in Sydney, the neutral approach to Australian fashion at the time was in stark contrast to her love of exotic colour.
"As someone who made her name designing quality knitwear it has been a joy to bring my beloved knits back to life," Jenny says. Working with The Woolmark Company has meant she has been able to work with the finest Italian natural yarn and utilise modern knitting technology in a completely new way.
There are only 50 pieces in each style in the new capsule collection. Jenny says they represent her most favourite iconic designs - 'always inspired by Australian's unique nature'.
The Women of Wool event is proudly sponsored by Rural Bank