Women of Wool 2012 Profiles
Seven Women of Wool from across the wool industry are sharing their love of the fibre in the lead up to the show, they include:
TV presenter and woollen babywear designer Catriona Rowntree, fashion designer Lisa Gorman, curator and author Charlotte Smith, woolcraft expert Emma Gerring, textile educator Katrina Wheaton-Penniall, fashion designer Lisa Gorman, woolgrower Pip Merriman, and creator of knit and design studio Hazel Green, Jackie O'Brien.
The 2012 Women of Wool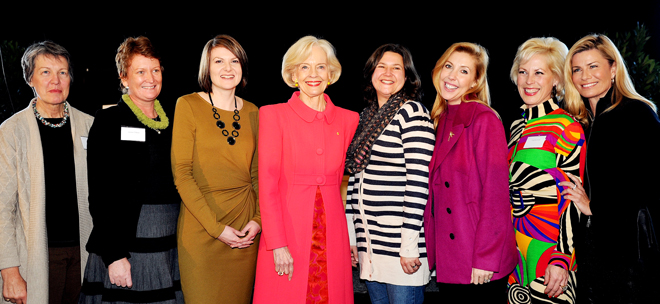 Curator and author Charlotte Smith, of Sydney, NSW
Charlotte Smith is the custodian of an extraordinary collection of vintage clothes and accessories. In 2004, her godmother Doris Darnell, a Quaker from Pennsylvania, bequeathed Charlotte a collection of 3000 garments which included every aspect of a woman's wardrobe since 1720 to present day.
The Darnell collection has continued to grow through further bequests to more than 5500 pieces representing 23 different countries and is considered the largest private vintage clothing collection in Australia. Included are many internationally recognised 20th century designers such as Lucile, Vionnet, Dior, Chanel, Balenciaga, Pucci, Jean Muir, Zandra Rhodes, Westwood, Versace, Dolce & Gabana and Jil Sander among many other names.
Wool in Couture, a display featuring the collection's finest woollen garments, is available for viewing at Bendigo's Dudley House from July 2 to July 22.
"Without doubt, wool is the most luxurious fabric you would ever want to wear," Charlotte says. "I work with historic and vintage garments and accessories every day. When I handle anything from my collection made from wool, history floods back and I am immediately transported back to the decade or century of that item whether it is a dress, pair of trousers, a hat, gloves or even a handbag.
"That is what is so special about wool for me," Charlotte says. "It is a fibre that has been used for thousands of years in fabrics that have adorned Roman gladiators and their beautiful women; it has graced the backs of dashing Georgian gentlemen living in grand houses in England; it was woven, dyed, embroidered and worn by Victorians on the East Coast of America and then at the turn of the 20th century it continued to be the fabric of choice.
"The story of wool begins with the land and a farmer, it moves on to the artisan or factory before meeting, as a bolt of fabric, the dressmaker, the tailor or fashion designer before ending up with a very happy customer. And this has been the story of wool for centuries and one which will continue for centuries to come. Wool has integrity."
Woolgrower Pip Merriman, of Boorowa, NSW
Pip Merriman has been surrounded by merino sheep since childhood. She is a passionate woolgrower who marvels at the attributes of merino sheep and the diverse uses of merino wool.
"I feel extremely lucky to have grown up immersed in merino history," Pip says. Her mother's family owned Springfield Merino Stud at Goulburn, one of the first merino studs registered in Australia, while her father's uncle owned Milong Merino Stud next door to her childhood farm "Murrabong" at Young (NSW).
Pip says: "My passion for merino sheep is driven by merino wool's attributes of renewability, durability and versatility and the merino sheep's ability to be productive in diverse environments."
"Merino wool offers benefits, economically - wearing very light weight, next-to- skin, superfine wool in summer, or layers and/or heavier weight wool garments in winter would reduce reliance on electricity for cooling and heating both in the home and in shopping centres.
"Environmentally - wool is a bio-degradable and renewable product that is not from coal, oil, gas, or plastics."
With her husband Charlie and family, they run a mixed farming enterprise near Boorowa in NSW, which includes the merino sheep studs, Merrignee, Merrignee Poll and Koonwarra.
Pip has worked alongside Charlie since 1977; first with his wider family when his father Bruce managed Merryville Stud, then from 1990 with their own enterprise.
In the 1990s Pip was elected to the NSW State Council of the RSPCA and served two terms. "I wanted to represent rural and farming interests and be a practical voice for animal husbandry," Pip says.
Her appreciation of good stock has also been applied in a variety of judging assignments from ewe competitions to larger shows.
At the 2009 WA Stud Merino Breeders Katanning Sheep Show, Pip was part of an all-female judging panel which selected the Supreme WA Merino to represent that state at the National Rabobank Australian Merino of the Year (held in Dubbo each August). When assessing merino sheep, Pip looks for structurally sound, well-balanced and productive types with wool that can handle the environment in which they live.
Along the way Pip has not only continued to learn about both the stud and commercial sides of merino sheep farming but also appreciate the great practical and environmental advantages of wool.
"Woollen clothing lasts for decades, even centuries, and the versatility of woollen garments allows the fibre to be used in elite endurance sports outfits through to very glamorous, high end fashion as well as protective clothing for fire fighting, adventurers and armed forces who face the extremes in climate," Pip says.
"Environmentally, merino sheep offer a renewable product, they are able to live in huge range of climates and typographies and have an amazing ability to survive and produce, even in tough drought conditions, without the use of high levels of water," she says.
"They are marvellous animals."
Woolcraft competitor and hand spinning aficionado, Emma Gerring, of Blackburn, Victoria
Fibre has now taken over popular woolcraft exhibitor Emma Gerring's life, with raw fleeces, dyes, roving, plus "way too many wheels and an obscene amount of spindles" battling for space in her home.
Her online mini-emporium of hand spinning equipment 'Spun Out' is "the baby of a compulsive obsessive fibre junkie," Emma says.
"I am a relatively recent spinner, starting my yarn making journey September 2008," she says. "I started with a wheel, after several lessons from a very dear friend, and I also became smitten with spindles, as this meant I could spin any time, any place, anywhere!"
"Spun Out began in 2009, running alongside my then yarn store of 10 years, 'The Wool Shack', which I sold in early 2011. So my love of yarn and the fibre industry tipped over into spinning.
"My desire to start up Spun Out, was driven by the wonderful spinning community that was opening up to me. I wanted to share the love (and obsession) and source the finest spinning paraphernalia from around the world," Emma says.
TV presenter and designer Catriona Rowntree of Lara, Victoria
"Like a duck to water", is how Catriona Rowntree describes her embrace of farming life.
"I am so grateful for the simple pleasures provided by our sheep and grain property. I'm learning fast too. We have a self replacing Merino flock, producing fine, free growing wool. In other words, lovely stuff," Catriona says.
So lovely, in fact, that the peripatetic travel reporter has stayed still long enough to design a range of woollen baby clothing for Target, to be launched in 2013.
"I'm passionate about this fibre and every waking moment for me at home provides inspiration," she says.
Because Catriona didn't grow up on the land (although her father is a proud country boy from Quirindi), Catriona tends to find "everything very romantic and beautiful".
"When we're shearing, I feel like I'm walking into a real life Tom Roberts painting," she says.
"Whilst I may not be able to help with the physical side of my husband's work, although I've 'pulled a lamb' before to save a ewe and I do try to help in the yards, there are many other ways I've found I can contribute.
"I'm an Ambassador for Landcare, Year of the Farmer and now Australian Wool Innovation.
"I told the latter, AWI, they really needed a chatterbox like me helping to push their barrow as I have no qualms speaking to millions, I adore wool and am married to a (very handsome) wool grower.
Catriona says she could "talk about wool for hours", which is precisely what AWI often asks her to do.
"I fly the 'Wool flag' whenever I can during my media commitments, wearing Australian Wool as often as possible.," she says.
"Thank heavens I married a farmer instead of a financier. I'm hopeless with fractions, but fabulous with the world's most magnificent natural fibre."
Creator of knit & design studio Hazel Green, Jackie O'Brien, Hamilton, VIC
Jackie O'Brien created Hazel Green with the desire to teach and inspire people about the wonders of wool and the practical ways to use it everyday.
"The simple pleasures of knitting, crochet & sewing seem to have gone unchecked for some time now and people are more eager than ever to learn these crafts," Jackie says. Jackie's passion for wool began early. She grew up on a farm between Macarthur and Penshurst (her father was a shearer and both parents still live on the farm. At and early age Jackie learnt all aspects of wool crafting.
"You can make anything from wool and it will last forever. The longevity and simplicity of wool makes it a clear choice for the future in our ever changing world, she says.
"People will make the shift back to using items that last rather than the disposable world we currently live in," Jackie says. "I hope knitting will once again become 'normal' in our lives and not a passing fad."
Her studio, Hazel Green, is regularly buzzing with groups of local students and adults beginning or refreshing their skills.
By keeping it simple, enjoyable and accessible Jackie says she is "putting wool into people's minds, hands and hearts."
"I could talk to people all day about how much I love wool (and I do); but you need to touch it, wear it and live it for yourself!"
Textile educator Katrina Wheaton-Penniall, of Melbourne, VIC
Katrina is an enthusiastic supporter of Wool4Skool, a national competition for year 9 and 10 students to create designs that use the fibre of the nation - merino wool.
As a young fashion design student she learnt about wool's wonderful natural properties and characteristics, and now continues the tradition with her own students.
Keen to lift the profile of textiles and technology education, Katrina teaches students at Caroline Chisholm Catholic College, at Braybrook in Melbourne's north-west, and was recently recognized for her efforts to inspire design innovation.
She enjoys entering student works into the Royal Melbourne Show, the Australian Sheep & Wool Show, and Australian Wool Innovation's Wool 4 SkoolTM competitions.
"I strive for all of my students to achieve their full potential within design and technology," Katrina says.
The Design and Technology Teachers Association (DATTA) made her their Secondary Educator of the Year in 2011.
After graduation from RMIT, Katrina worked for several years with a high street fashion retailer in the United Kingdom before returning to Australia.
"I was inspired by my textile teacher in secondary school, so I decided that teaching was what I wanted to do and returned to university to complete my Dip Ed -
I've never looked back," Katrina says. The passionate textile teacher encouraged her Year 10 fashion students to enter AWI's school's competition in 2011 and one of her talented students won the top prize.
Katrina has worked closely with AWI to create lesson plans and resources for their 2012 Wool 4 SkoolTM Competition.
Fashion designer Lisa Gorman, of Melbourne, VIC
Lisa Gorman has been making Australian women look effortlessly stylish since the launch of her whimsical label, Gorman, in 1999.
The instant success of that first offering was the beginning of something special, and in the years that have followed the Gorman label has become an iconic part of the Australian fashion landscape.
The designer, who once established a Barbie clothing production line with her three sisters at six- years-old, now clothes real women from her online and flagship stores in Melbourne and Sydney.
Her soft fabrics and pretty prints have garnered a cult following in Australia and overseas, but Lisa's inspiration remains in Melbourne.
There is a distinctive handwriting that underpins all of Gorman's designs, from its whimsical signature prints, directional knitwear and distinctive colour palettes. For all of its vintage and tribal references, Gorman fashion critics call her designs thoroughly modern and inspired by the everyday, and the local culture and artists that surround us, particularly in Lisa's local Fitzroy.
The Women of Wool event is proudly sponsored by Rural Bank